December 18, 2017:
An Amtrak passenger train derailed onto the I-5 freeway outside of the city of DuPont, the Washington State Department of Transportation (WSDOT) confirmed Monday. "All lanes of southbound I-5 at Mounts Road are closed," WSDOT said in a tweet.
The incident is at an interstate rail overpass, south of the city of DuPont.
Washington State Patrol report multiple deaths.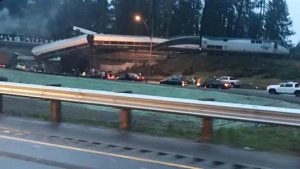 The law firm of Hunegs LeNeave and Kvas P.A. is one of the most experienced  train derailment law firms in the United States. The law firm's train derailment experience dates back to the 1950s and more recently includes several of the most significant train derailments in modern history.
Hunegs LeNeave & Kvas worked as lead counsel in connection with the severe injuries sustained by several RR workers in the 1996 Valentine's Day Train Disaster in St. Paul, Minnesota. The in depth investigation by the law firm uncovered that the run away BNSF train lost its braking power due to the use of non-compliant air hoses. The hoses became kinked while heading down severe grade alongside the Mississippi River and derailed as it crashed into trains sitting in the St. Paul Pigs Eye rail yard causing what 20/20 describes as one of the largest train disasters in history.
In 1996 Hunegs, LeNeave & Kvas was called in to help a family who had suffered enormous losses, including severe burn injuries to a young man over 85 percent of his body. The law firm once again uncovered that cost cut backs by Canadian Pacific aka Soo Line RR led to the reduction of proper track inspections and the failure to detect defects in the rail causing the train to derail and the resulting explosion of a butane tanker car. The family recovered significant compensation for the injuries reportedly in excess of 24 million dollars.
Only five years later the firm was once again called upon to lead a group of law firms investigating another catastrophic train derailment involving yet another Canadian Pacific or Soo Line train full of hazardous materials, including anhydrous ammonia. The train derailed once agin due to unsafe inspection practices and track failures. The city of Minot North Dakota as quietly engulfed in over 270,000 gallons of anhydrous ammonia vapor. Thousands of people were severely injured. Hunegs, LeNeave & Kvas obtained record setting recoveries for the victims while assisting other counsel in the process with its expertise in train derailments.