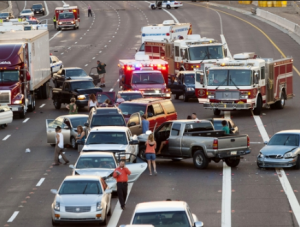 Minnesota & Nebraska Auto Collision Lawyers
It only takes a second for a car accident to happen and have a long-term impact on your life. Most car accidents are caused because someone was negligent. A driver can be negligent by speeding, driving drunk, or doing something that distracts them from the road.
At Hunegs, LeNeave & Kvas, we are committed to helping individuals who have been injured due to the wrongdoing and carelessness of negligent drivers. If you or a family member has been seriously injured or a family member was killed in a car accident, you may have a personal injury claim against the party responsible for the car accident. By speaking with a qualified car accident attorney, you can learn about your rights and options, as well as receive the advocacy that you deserve.
More information can be found below:
A Nationally Respected Firm Representing Your Interests
Hunegs, LeNeave & Kvas has a 75-year history that they put to work for you. We have earned a reputation for trusted service, integrity, and professionalism. Our attorneys have represented thousands of individuals throughout Minnesota and in Nebraska in their accident claims and we have a solid record of results. We have achieved outstanding results for our clients again and again through our powerful negotiating skills.
When the insurance companies do not want to offer full and fair compensation so our clients can pay for the losses caused by the accident, our highly experienced attorneys are fully prepared to aggressively advocate for our clients at trial.
Helping You Achieve Results
We focus on serious injury claims, so we have experience with injuries that last for a lifetime, such as traumatic brain injury, loss of limb, paralysis, disfigurement, and other serious injuries. In cases where the victim did not survive the car accident, our car accident attorneys have been able to help families recover compensation for the wrongful death of their loved ones.
Because of our experience and record of success, you should expect that your attorney will be highly dedicated to your case. Our attorneys are highly committed to recovering the compensation that you deserve so you can pay medical bills, living expenses, and much more. We take the time to investigate the cause of car accidents, understand the severity of the client's injuries, and gather the evidence that is necessary to effectively prosecute the personal injury claim. Our clients have found that we vigorously pursue the other party for full and fair compensation so that the end result is one that allows them to move on with their lives.
Contact Our Motor Vehicle Accident Attorneys
Car accidents can result in very serious injuries or they can be fatal. Common injuries include paralysis, head injuries, whiplash, amputation, broken bones, and much more. If you or a loved one has been injured or you lost a loved one in a car accident that was caused by the negligence of someone else, you may have a personal injury or wrongful death claim. To learn more about your rights and options, call Hunegs, LeNeave & Kvas at the Wayzata, MN office or the Omaha, Nebraska office at 612-339-4511 or 1-800-328-4340 for a free consultation.