As featured in Minnesota Lawyer                                         February 2021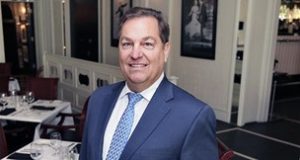 The POWER 30: Cortney S. LeNeave
By: Minnesota Lawyer                                                              February 22, 2021
Back in the 1980s the DeParcq, Hunegs, Stone & Koenig founded a practice for clients who were injured while working on railroads. Cortney LeNeave started there as a law clerk. The DeParcq firm is now the Wayzata law firm of Hunegs, LeNeave and Kvas, where LeNeave is practicing in railroad law under the Federal Employers' Liability Act and also prosecuting other personal injury and products liability cases.
Working conditions are unsafe for many railroad workers, LeNeave said. He is representing a worker at the Canadian Pacific Railroad whose task it was to walk along the side of train cars.
LeNeave explained that the client was working alone, toward the back of the trian, on a steep embankment along a ditch. The embankment was a "swampy morass," LeNeave said, and the worker's feet went out from under him and he slid into the ditch. He sustained a traumatic brain injury and a spinal cord trauma. He is in his early 50s without income coming in. "It's a tough spot and not dissimilar to others," said LeNeave
It's a seven-figure case that has been set for trial three times during this pandemic, and to date there have been no meaningful settlement talks, LeNeave said. The railroad appears disinterested in the case and blames the industry for safety violations, he said.
LeNeave charges that the railroad workers are often working alone, meaning that if they are hurt there's no one to help and if there is a lawsuit there are no witnesses. "The railroad wants the conductors working alone to reduce operating costs," LeNeave asserted. "It doesn't matter about safety."
A products liability case that has been to the Supreme Court and twice to the Court of Appeals is set for trial in August. The plaintiff was severely injured when his single-engine plane crashed shortly after takeoff. The District Court described Mark Kedrowski's damages as "massive" and "permanent and life-changing from head to toe." He had a facial reconstruction, brain damage, and had to relearn how to walk, read and write. He cannot live independently.
The plaintiff attributes the crash to a defective fuel pump and the respondent claims pilot error.
The trial will involve liability and not damages. Kedrowski, who sustained a major brain injury, has already been awarded $27.7 million which has been earning 10% interest for years. LeNeave estimates that the verdict is now over $40 million.
______________________
Joins 2017 Honorees Minnesota Attorneys Of The Year
Read more at :  Firm News & Updates:

---
We routinely serve clients throughout the Midwest and have served clients throughout the nation. We handle all accident injury claims on a contingency fee basis, so you pay no fees to us unless we recover compensation for you.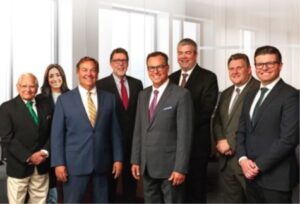 Hunegs, LeNeave & Kvas has been recognized nationally for obtaining full and fair compensation in personal injury cases. Our practice is a full-service injury claims practice, including representation in workers' compensation, (FELA) railroad worker injury, malpractice, and personal injury claims.
For over 80 years, we have worked diligently to defend the interests of our clients, providing both the emotional and legal support, as well as the advice that is needed to get results as soon as possible. To schedule a free consultation with one of our personal injury attorneys, you can contact our firm via telephone or you can complete our contact form and someone from our Minnesota or Nebraska office will contact you.
Extensive Experience In Injury Law
Our practice areas include:
Experienced, Trusted, And Established Representation
We have established a reputation of integrity, trusted service, and professionalism. Our firm is AV Preeminent rated by the Martindale-Hubbell peer review rating system. This is the highest rating for legal ethics and ability.
We have assembled a dedicated team of personal injury attorneys who are the best in the field. Our attorneys have represented thousands of clients in personal injury and other injury claims and have handled each case with the same level of commitment and care for each one. Our attorneys are seasoned and aggressive trial lawyers ready to take the case to trial if settlement cannot be reached. In addition, your rights are protected every step of the way. We are not a firm that just looks for the quickest way to get money; we fight for full and fair compensation and for the rights of our clients.
Committed To Bettering Your Future
We place a heavy emphasis on cases where serious injury or death has occurred. This means our experience and expertise works for the clients who have the most need. Our attorneys have considerable experience in cases involving serious injuries, such as head and brain injuries, paralysis, spinal cord injuries, amputation, disfigurement, burn injuries, broken bones, and many others.
Regardless of how serious the injury, we are committed to your recovery. When complete recovery is not possible, the goal is to help you achieve the best possible future. We help you obtain the best medical care, professional assistance with the emotional trauma, and vocational rehabilitation services so that you might be able to return to the workforce, if possible. As a client of our firm, you will have a strong and powerful advocate working by you throughout the entire process.
Contact Our Experienced Personal Injury Lawyers
We have served clients throughout the Southwest, Midwest and through the nation. We are a nationally recognized firm due to handling a number of high-profile cases that have resulted in the recovery of millions of dollars in compensation. If you have been injured in an accident due to no fault of your own, Hunegs, LeNeave & Kvas can help you recover the compensation that you need to pay for medical expenses, lost wages, pain and suffering, and other related costs. Call our Wayzata, Minnesota office at 612-339-4511 or toll free at 800-328-4340 to schedule your free consultation.
Union Designations
The law firm of Hunegs, LeNeave & Kvas has earned the trust and recommendation of many of the nation's leading unions, both in the railroad industry and in other areas.







Our union designations are your assurance of skilled counsel and a commitment to aggressively pursuing your interests.