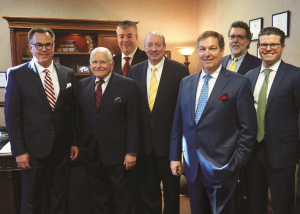 News Update
Joins 2017 Honorees
Minnesota Attorneys Of The Year
Read more at :  Firm News & Updates:

---
We routinely serve clients throughout the Midwest and have served clients throughout the nation. We handle all accident injury claims on a contingency fee basis, so you pay no fees to us unless we recover compensation for you.
Hunegs, LeNeave & Kvas is a law firm that has been recognized nationally for obtaining full and fair compensation in personal injury cases. Our practice is a full-service injury claims practice, including representation in workers' compensation, (FELA) railroad worker injury, malpractice, and personal injury claims.
For over 75 years, we have worked diligently to defend the interests of our clients, providing both the emotional and legal support, as well as the advice that is needed to get results as soon as possible. To schedule a free consultation with one of our personal injury attorneys, you can contact our firm via telephone or you can complete our contact form and someone from our Minnesota or Nebraska office will contact you.
Extensive Experience In Injury Law
Our practice areas include:
Experienced, Trusted, And Established Representation
We have established a reputation of integrity, trusted service, and professionalism. Our firm is AV Preeiminent rated by the Martindale-Hubbell peer review rating system. This is the highest rating for legal ethics and ability.
We have assembled a dedicated team of personal injury attorneys who are the best in the field. Our attorneys have represented thousands of clients in personal injury and other injury claims and have handled each case with the same level of commitment and care for each one. Our attorneys are seasoned and aggressive trial lawyers ready to take the case to trial if settlement cannot be reached. In addition, your rights are protected every step of the way. We are not a firm that just looks for the quickest way to get money; we fight for full and fair compensation and for the rights of our clients.
Committed To Bettering Your Future
We place a heavy emphasis on cases where serious injury or death has occurred. This means our experience and expertise works for the clients who have the most need. Our attorneys have considerable experience in cases involving serious injuries, such as head and brain injuries, paralysis, spinal cord injuries, amputation, disfigurement, burn injuries, broken bones, and many others.
Regardless of how serious the injury, we are committed to your recovery. When complete recovery is not possible, the goal is to help you achieve the best possible future. We help you obtain the best medical care, professional assistance with the emotional trauma, and vocational rehabilitation services so that you might be able to return to the workforce, if possible. As a client of our firm, you will have a strong and powerful advocate working by you throughout the entire process.
Contact Our Experienced Personal Injury Lawyers
We have routine served clients throughout the Midwest and through the nation. We are a nationally recognized firm due to handling a number of high-profile cases that have resulted in the recovery of millions of dollars in compensation. If you have been injured in an accident due to no fault of your own, Hunegs, LeNeave & Kvas can help you recover the compensation that you need to pay for medical expenses, lost wages, pain and suffering, and other related costs. Call our Wayzata, Minnesota or Omaha, Nebraska office at 612-339-4511 or toll free at 800-328-4340 to schedule your free consultation.
Union Designations
The law firm of Hunegs, LeNeave & Kvas has earned the trust and recommendation of many of the nation's leading unions, both in the railroad industry and in other areas.







Our union designations are your assurance of skilled counsel and a commitment to aggressively pursuing your interests.